Hanging Valley
In highland areas the most obvious glaciers features are usually those created by erosion, not deposition. Features such as corries, ribbon lakes, U shaped valleys and hanging valleys are typical of upland areas such as the Alps in Europe, the English Lake District and the Southern Alps in New Zealand.
Hanging Valley
Hanging valleys are often associated with valley glaciers, joining the main valley along its sides.
They are the product of different rates of erosion between the main valley and the valleys that enter it along its sides. The floors of the tributary valleys are eroded and deepened at a slower rate than the floor of the main valley, so the difference between the depths of the two valleys steadily increases over time. The tributaries are left high above the main valley, hanging on the edges, their rivers and streams entering the main valley by either a series of small waterfalls or a single impressive fall.

Top end of a Hanging Valley emptying into the main valley via a waterfall
The picture below shows the lower end of an active hanging valley that still contains a corrie glacier. The melt waters fall into the main glacial valley via a series of falls, and then carve a constantly changing path through the loose rock debris that forms the valley walls. Where the river leaves the picture along its bottom edge, it is over 30 feet wide and flowing at over 25 miles per hour.
Where it meets the glacier it vanishes below the ice, providing angular rock fragments that will become embedded in the ice and aid in abrading the underlying rock surface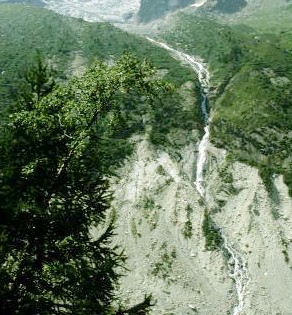 Lower end of a Hanging Valley emptying into the main valley via a waterfall

---
We value your ideas and suggestions. Please contact the maintainer of this site.

This page can be found at: http://www.geography-site.co.uk

Last update to this statement was on: February 23, 2006

© Copyright Geography Site
---